Christopher Morley Park Ice Rink
&nbsp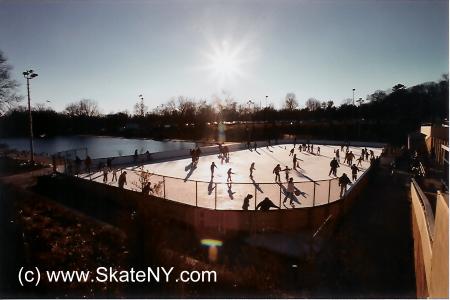 &nbsp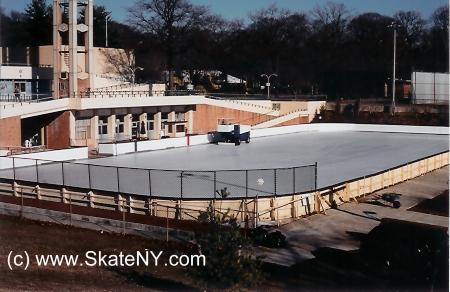 &nbsp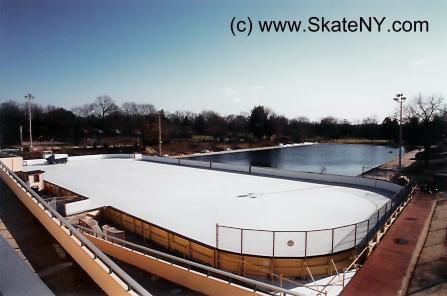 &nbsp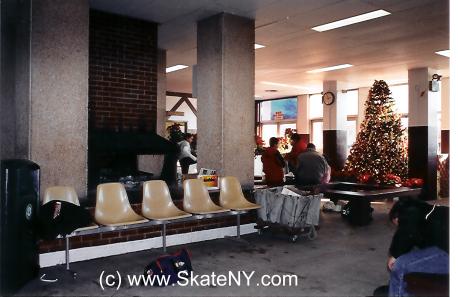 Click on photo for a larger image.
Searingtown Road, Roslyn-North Hills
516 571 8113
Closed for the season (since the end of Feb 2010).
See the press release from Nassau County for the opening information.
Outdoors, open seasonally - Located in Roslyn, Long Island on Searingtown Road, about one mile south of the Miracle Mile at Manhasset. From the LIE you exit at Searingtown Road (exit 36) and go north on Searingtown Road. The park is on the right, and the rink is at the far end of the park. Christopher Morley Park is almost 100 acres large, and contains a pool, tennis courts, basketball courts, golfing facilities and, our point of interest, a hockey sized ice rink.
The entrance to the rink is below the clock tower. Follow the ramp down to the cashier. This rink requires a Nassau County Leisure Passport to get the resident rate. The passport is good for three years. Without the passport the admission cost is much higher. You cannot purchase the leisure pass at rink's cashier, but need to go to the admin building to the left of the clock tower (7 days a week, 10am - 4pm).
The atmosphere is that of Main Street USA. A quaint old rink still flanked by wooden boards around its perimeter. Looking to the south you have a wonderful view of the model boat basin.
There is a snack bar with a fireplace, skate rental booth (figure and hockey skates available), coin lockers, and changing area. They play pop music from a local radio station. Parking is free and plentiful.
-- written Mar 2006 (based on visit in Dec 2005)
Regular schedule in 2009/10:
| &nbsp | &nbsp |
| --- | --- |
| Monday | 10:30am-12:30pm, 1:15-3:15pm, 4-6pm |
| Tuesday | 10:30am-12:30pm, 1:15-3:15pm, 4-6pm |
| Wednesday | 10:30am-12:30pm, 1:15-3:15pm, 4-6pm |
| Thursday | 10:30am-12:30pm, 1:15-3:15pm, 4-6pm |
| Friday | 4-6pm, 8:30-10:30pm |
| Saturday | 10:30am-12:30pm, 1:15-3:15pm, 4-6pm |
| Sunday | 10:30am-12:30pm, 1:15-3:15pm, 4-6pm |
Admission rates (2009/10):
Resident Adult with Leisure Passport $7
Resident Child (4-17) with Leisure Passport $5
Resident Senior Citizen with Leisure Passport $4
Guest Adult $14
Guest Child $10
Skate rental: $5
See a short video of skating at Christopher Morley Park in MPEG (approx. 3.1MB) format.
Last updated Mar 11, 2010.

---
Copyright © 1998-2011 SkateNY, unless otherwise indicated. All rights reserved. The information contained on this site may not be published, broadcast, rewritten or redistributed without the prior written consent of SkateNY.
SkateNY home