Empire State Plaza Ice Rink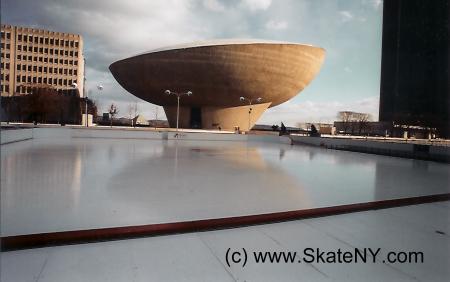 &nbsp
&nbsp
Empire State Plaza, Albany, NY
Plaza Manager's Office (518) 474 8860
Closed for the 2009/10 season due to NYS budget concerns.
See the CBS 6 story Plaza ice skating rink won't be opening again
See the NYT story At the Capitol's Doorstep, a Little Less Winter Joy for the closing during the 2008/09 season.
Outdoors, open seasonally - located in Albany, NY, the capital of New York State.
The rink is in the center of the Empire State Plaza; as such, it is surrounded by government buildings. In warmer weather this is the location of a large reflecting pool, but in the cooler temperatures a square section is set aside for skating. Although this would lead one to think that this is a natural ice surface, it is not. The pool is drained and the rink is constructed on one end of the pool.
Admission to the rink is free. There is no check in, and no wrist bands are required. Coin lockers cost 25 cents. If you really want a cheap skate, arrive with your skates on your feet and go. (Don't forget to use rubber blade guards and be sure to remove them before you get on the ice.)
Stairs near the entrance to the rink lead you down to an underground pavilion where there are men's and women's locker areas along with rest rooms, a common area, and several vending machines.
New for the 2006/07 season: skate rental!
-- updated Dec 21, 2006
For more information about Empire State Plaza, see the NYS Office of General Services web site.
Last updated Dec 12, 2009.

---
Copyright © 1998-2011 SkateNY, unless otherwise indicated. All rights reserved. The information contained on this site may not be published, broadcast, rewritten or redistributed without the prior written consent of SkateNY.
SkateNY home