Iceworks
&nbsp
&nbsp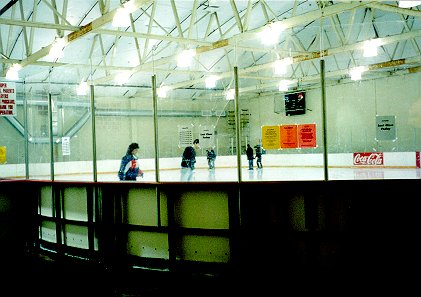 &nbsp
Click on photo for a larger image.

* Training facility for the NY Islanders * Indoors - Located in Syosset, Long Island. Two rinks - one full sized rink called the Grand Rink and a half size rink called the Blue Rink. The ice here is hard and well maintained. This is an indoor rink which is very cold - dress warmly when you skate here. Most of the ice time here is rented out to hockey games and private parties. There are very few public sessions, most of which are usually during the week around lunch time. If you are lucky enough to have free time during the week to skate, check this place out. The last time I skated during one of the public sessions there were only five skaters on the Grand Rink and we had a grand time. It was better than having a private rink (and only cost five bucks). Hockey, figure, and speed skaters are all welcome. There is a snack bar which sells small items and a full service skate shop. The music is variable - it depends on which radio station they play. Walkmans seem to be permitted. Skate rental is not available - YOU NEED TO BRING YOUR OWN SKATES. They don't have any lockers either so leave your valuables at home. Parking is free. If you prefer to take the LIRR, travel to the Syosset station and walk two blocks south on Underhill Blvd. to the big beige building on the left.
-- written Feb. 2, 1998 (last visit before write-up Jan 27)

See the Iceworks web site for more information.

Last updated Nov 25, 2007.

---
Copyright © 1998-2011 SkateNY, unless otherwise indicated. All rights reserved. The information contained on this site may not be published, broadcast, rewritten or redistributed without the prior written consent of SkateNY.
SkateNY home