Kate Wollman Rink in Prospect Park
&nbsp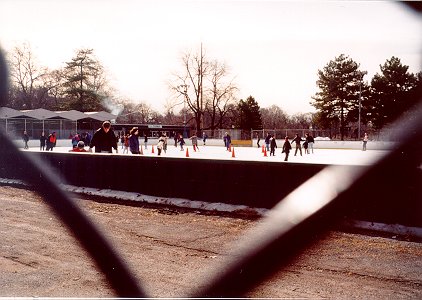 &nbsp

Click on photo for a larger image.
Closed for the 2010/2011 season.
718 287-6431
Outdoors, seasonal - Located in Prospect Park in Brooklyn. The rink has a wonderful view of Prospect Lake which gives you the feeling that you could skate right out of the rink and onto the lake. The ice quality is good and the ice seems well maintained. Skate rental is available - figure skates only. There is a cafe, Kate's Corner, for food and drinks. The music they played on a session crowded with kids was mostly Big Band and country. There are free lockers, for which you should bring your own padlock. When driving, enter the park at the corner of Parkside and Ocean Avenues, and follow the signs to the rink. There is plenty of free parking available. In addition, the Q train station Parkside Avenue leaves you at the park entrance.
-- written Feb 19, 1998 (last visit before write-up Feb 14)
-- updated Oct 22, 2001
See the Prospect Park website for more information.
Last updated Feb 21, 2011.

---
Copyright © 1998-2011 SkateNY, unless otherwise indicated. All rights reserved. The information contained on this site may not be published, broadcast, rewritten or redistributed without the prior written consent of SkateNY.
SkateNY home