City of Long Beach Ice Arena
&nbsp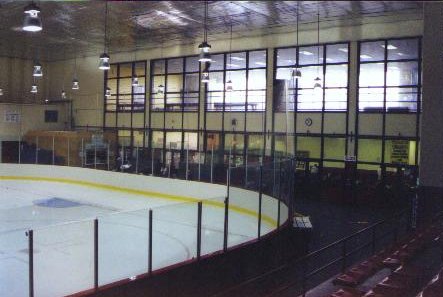 &nbsp
&nbsp

Click on photo for a larger image.
150 W. Bay Drive, Long Beach.
516 208-6136
Indoors - Located in Long Beach, Long Island. Typical full sized rink. The facility was recently renovated but it seemed the same as our last visit in 2000 - perhaps something in the infrastructure has been modernized. The ice was smooth and well maintained. However, the ice was not resurfaced in the middle of the session as it was during our last visit to this rink. This was probably because it wasn't very crowded in this session. One neat feature of this rink is the "Sticks and Pucks" session. This is a public session where you can don your hockey gear and get some ice time - not many rinks offer this. Along one side of the rink is a bleacher type seating area where you can keep an eye on things if you are not skating. There is a snack bar, pro shop, vending machines, and an arcade. Coin lockers cost 50 cents. Rental hockey and figure skates are available as well as skate gliders for young beginners. The rink is within walking distance of the Long Beach station on the LIRR. Next to the rink is a fishing pier and a public park. The beach is also nearby. There is ample free parking.
-- written Aug 25, 2000 (last visit before write-up July 30)
-- updated June 17, 2008 (last visit before write-up June 14)
See the City of Long Beach Ice Arena website for more information.
Last updated Nov 14, 2009.

---
Copyright © 1998-2011 SkateNY, unless otherwise indicated. All rights reserved. The information contained on this site may not be published, broadcast, rewritten or redistributed without the prior written consent of SkateNY.
SkateNY home