Madison Square Garden
&nbsp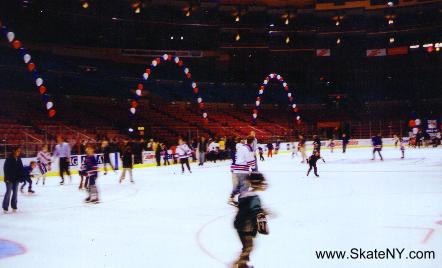 &nbsp

Click on photo for a larger image. Look at the
&nbsp gallery for more photos.

Indoors - Located above Penn Station in Manhattan. Garden information phone number 212 465-MSG1. One NHL hockey rink, home rink of the New York Rangers. This isn't your typical public session or rink, but once a year the Rangers have a skating party for the season subscribers. This year there were several 30 minute sessions - which is really too short considering the effort it takes to get on the ice. In previous years, the sessions were longer. Once in the facility, you are escorted to a carpeted area where you put your skates on. This is a no-frills skate - no lockers, no rentals, no skate guards. Cameras and camcorders are welcome. The ice was excellent and resurfaced between sessions. Concession stands were open for snacks and refreshments. After the skate, you can go on a tour of the locker rooms and view memorabilia from the teams that play at MSG.
-- written Jan 16, 2004 (last visit before write-up Oct 27, 2003)

See a short video of skating at Madison Square Garden (Oct 27, 2003) in MPEG (approx. 2.9MB)

See the New York Rangers web site for more information.

Last updated Jan 29, 2004.

---
Copyright © 1998-2011 SkateNY, unless otherwise indicated. All rights reserved. The information contained on this site may not be published, broadcast, rewritten or redistributed without the prior written consent of SkateNY.
SkateNY home