Ice skating in Paris
Second year of ice skating on the first level of the Eiffel Tower for the Christmas 2005 season. See the Eiffel Tower web site for more information.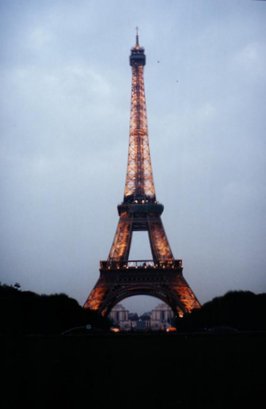 This past fall (October 1998) we packed up our skates and went to Paris in search of new skating pleasures. We found three rinks on the outskirts of the city. They were all within walking distance from the Metro and not too difficult to get to.
Ice skating in Paris is definitely different than in New York. The ice is the same but the atmosphere and customs definitely have a French accent to them. There weren't any skate guards at any of the rinks nor were there coned off areas for figure skaters. It was pretty much skate as you like.
Click on the links below for photos, reviews and schedules.
Metropole has information about an ice skating rink at the Hotel de Ville. See another photo of the rink in the Paris section of photo.net
Last updated Dec 9, 2005.

---
Copyright © 1998-2011 SkateNY, unless otherwise indicated. All rights reserved. The information contained on this site may not be published, broadcast, rewritten or redistributed without the prior written consent of SkateNY.
SkateNY home