Andrew Stergiopoulos Ice Rink at Parkwood Sports Complex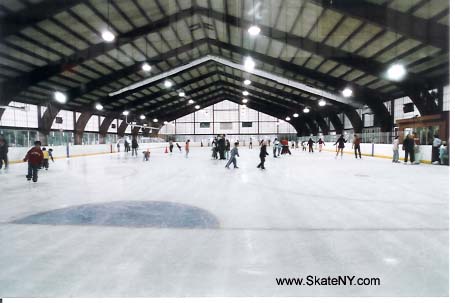 &nbsp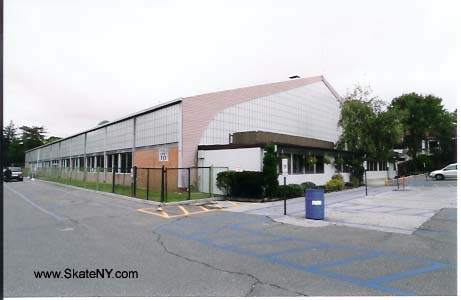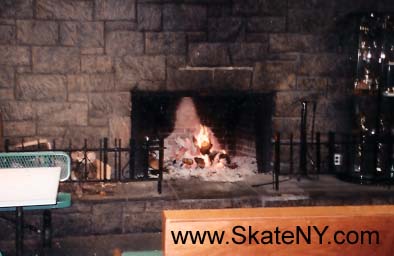 &nbsp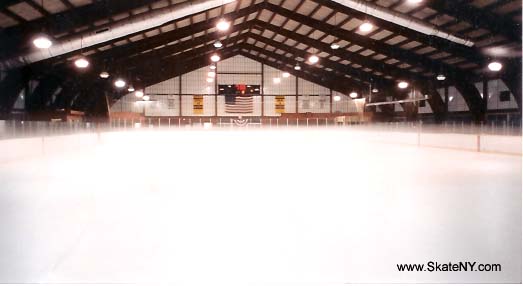 Click on photo for a larger image.
516 487 2975
Open for the 2009/10 season (since Sept 13, 2009).
Indoors - Located in Great Neck, Long Island. Typical full sized rink. The ice here is very nice and you won't be disappointed if you skate here. Although this an indoor rink it's quite cold inside - usually much colder than it is outside - so bundle up. Hockey, figure, and speed skaters are all welcome. Sunday night there is an adult session which is a good time to improve your skating skills - you won't need to watch out for the future Gretzkys and can focus on your training. There is a food service for break time and a skate shop for emergency repairs. If it's too cold out on the ice you can hang out by the fireplace (fire not guaranteed) and warm up. The music is variable - depends on what radio station the skate guards like - also, walkmans are permitted. Skate rental is available. Coin lockers cost 25 cents. Parking is free. It's probably best to drive here, but you can take the LIRR to the Great Neck station and a cab, as well.
Note the rink is undergoing a renovation. This is part of a larger renovation to upgrade the Parkwood pool complex - the pool renovations were completed in July 2008. Completed at the time of this writing is the renovation of the changing area, new dasher boards and glass, along with new rubber padding throughout the facility. Upcoming changes include an enclosed walkway between the rink and changing area along with new locker rooms on the East side of the rink for the hockey teams.
-- updated Nov 2008
See a short video of skating at Parkwood Rink (Jan 2004) in MPEG (approx. 2.5MB)
See the ice rink page on the Great Neck Park District website, which also includes a map.
2009/10 Schedule:
| &nbsp | &nbsp |
| --- | --- |
| Monday | 10am-noon, 12:30-2:30pm |
| Tuesday | 10am-noon, 12:30-2:30pm |
| Wednesday | 10am-12noon, 12:30-2:30pm, 3:30-5:30pm, 8:30-10pm |
| Thursday | 10am-noon, 12:30-2:30pm |
| Friday | 3:30-5:30pm, 8-10pm |
| Saturday | 2:30-4:30pm |
| Sunday | 12:15-2:15pm, 2:30-4:30pm, 7-8:45pm (adults 16 and over) |
Last updated Nov 5, 2009.

---
Copyright © 1998-2011 SkateNY, unless otherwise indicated. All rights reserved. The information contained on this site may not be published, broadcast, rewritten or redistributed without the prior written consent of SkateNY.
SkateNY home