Riverbank State Park Ice Rink
&nbsp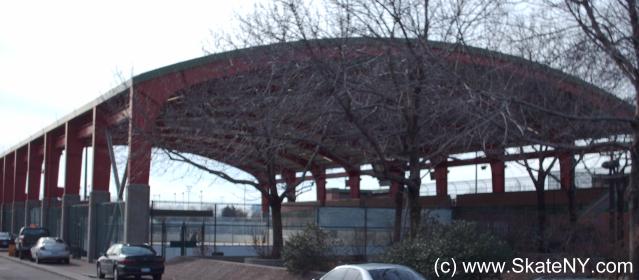 &nbsp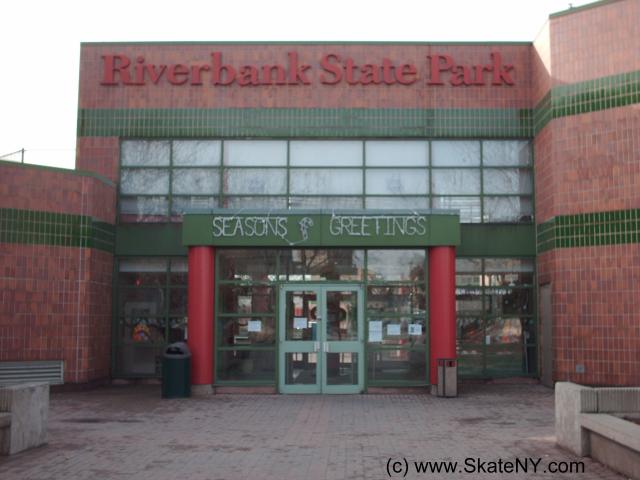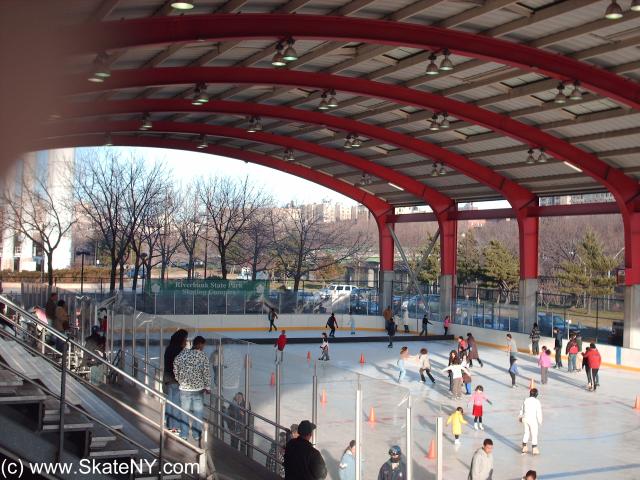 &nbsp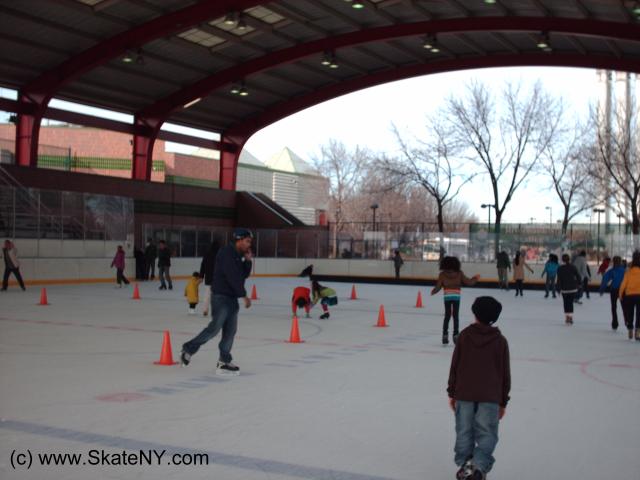 &nbsp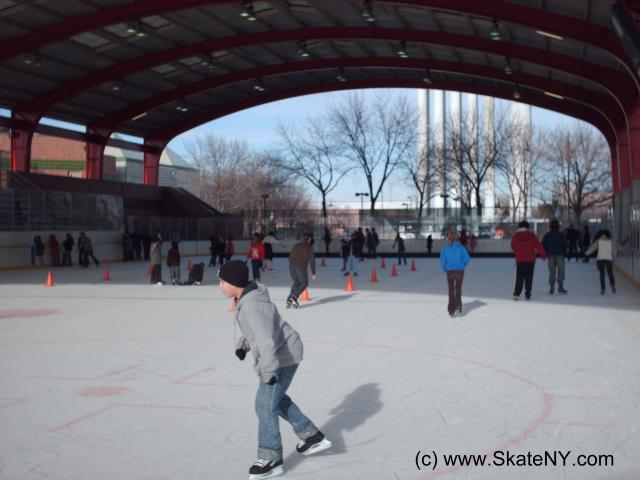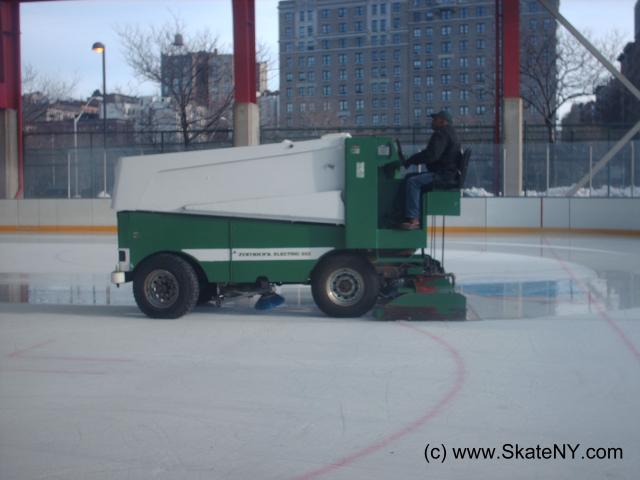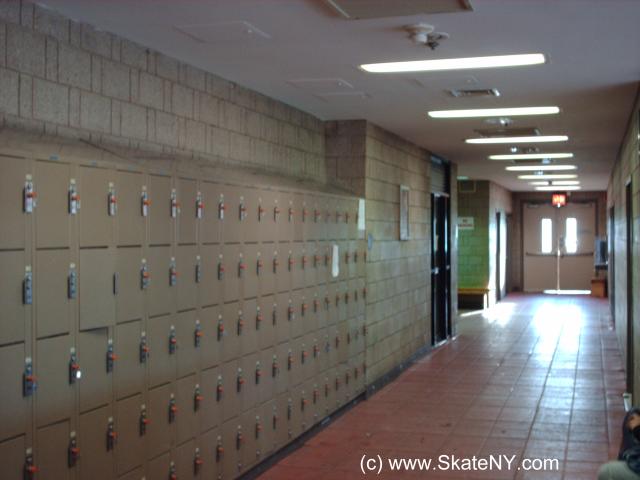 &nbsp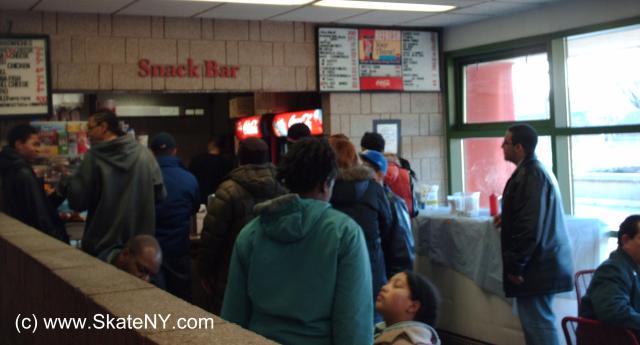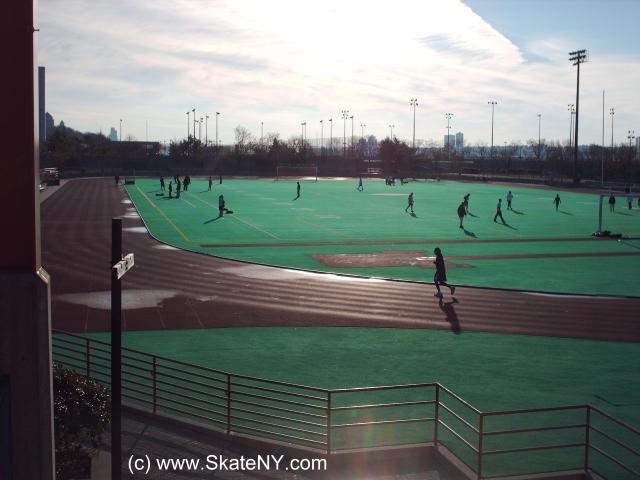 &nbsp


Click on photo for a larger image.
212 694 3642
Outdoors but covered, seasonal (November-March) - Located in Riverbank State Park, 145th Street and Riverside Drive, Manhattan. There is ice skating in the winter, rollerskating in the summer. In addition to the rink, Riverbank State Park has tennis, basketball, handball, and racketball courts, a pool, soccer and baseball fields, a running track, a cultural theater, an athletic complex, and a restaurant. This 28 acre facility is built above a public works facility along the bank of the Hudson River. Spectacular views abound - from the park you can see the George Washington Bridge, Palisade Mountains, and Hudson River.
The ice was in excellent condition (smooth, soft and no ruts) on the mild Saturday afternoon that we were there. The session was 3 hours long and the ice was resurfaced in the middle of the session. One end of the rink was sectioned off for less confident skaters. The center ice was sectioned off for figure skating. There are bleacher seats and a terrace for those not skating. Easy commute via subway or bus - there is a bus stop virtually at the doorstep to the rink. No parking next to the rink, but there is ample free street parking on Riverside Drive heading north. Music - varies from classical to pop. Lockers are included with the cost of admission, but you need to get a token from the skate rental shop to use one. Skate rental of both hockey and figure skates is available. There is a cafe for hot chocolate and snacks.
-- written Dec 29, 2007 (last visit before write-up Dec 29)
The 2010/11 public session schedule:
Friday 6-9pm
Saturday & Sunday 1-4pm and 5-8pm
See a short video of skating at Riverbank in MPEG (approx. 1.9MB) format.
See the Riverbank State Park web site.
See the Riverbank Hockey Parents Association page for information about youth hockey.
Last updated Feb 21, 2011.

---
Copyright © 1998-2011 SkateNY, unless otherwise indicated. All rights reserved. The information contained on this site may not be published, broadcast, rewritten or redistributed without the prior written consent of SkateNY.
SkateNY home