Toms River Winding River Ice Rink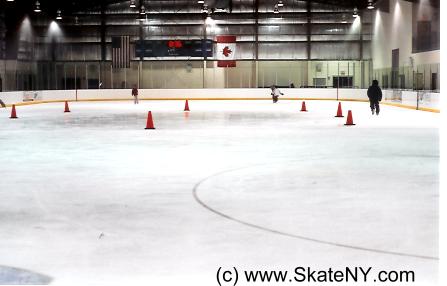 &nbsp

Click on photo for a larger image.
732 244-0720, 732 341-1000 ext. 8488
Indoor rink open year round, outdoor rink open seasonally.
Located in Winding River Park in Toms River, NJ - about a 20 minute drive from the Jersey Shore. There are two full sized hockey rinks. The indoor facility is new and state of the art. As seen in the photo, it is also well maintained. Although open year round, this is a summertime place for us to skate when visiting the Jersey Shore for a week at the beach and not miss out on any skating. The ice was in excellent condition on the summer evening that we skated here - no wet spots, no hot spots. The rink was well air conditioned. It was a great way to cool off. The facility has a snack bar, skate rental, and locker room. For the lockers you need to bring a padlock. Above the rink is stadium style seating for those watching what's happening on the ice.
-- written Nov 29, 2007 (last visit before write-up August 2007)
See the township of Dover web site for more information, including schedule and rates.
Last updated Nov 29, 2007.

---
Copyright © 1998-2011 SkateNY, unless otherwise indicated. All rights reserved. The information contained on this site may not be published, broadcast, rewritten or redistributed without the prior written consent of SkateNY.
SkateNY home