Voyager of the Seas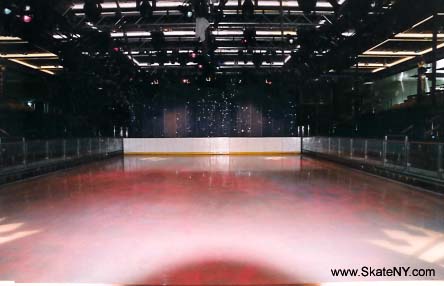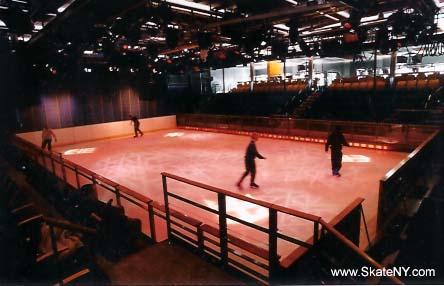 Click on photo for a larger image.
Indoors, at sea. The Voyager class ships of the Royal Caribbean cruise line have an ice rink on board. It's called Studio B and is on the lowest passenger deck of the ship. The rink is about forty feet by sixty feet in size and is surrounded by theatre style seating. The rink is open for general skating during the day while the ship is at sea. It is closed while the ship is in port or during one of the many performances of the ice show. The ice show performances are included in the cost of the cruise and are definitely worth seeing. Tickets are dispensed on a first come/first serve basis.
Of note: there are portholes on either side of the rink looking out to the ocean. The sun, reflecting off the waves as the ship cuts through the water, is projected on the ceiling above the rink. Without this visual effect, you could not tell that this rink was speeding across the ocean.
Admission and skate "rental" are free (included in the price of the cruise). Sessions were divided into 45 minute segments and were not crowded, especially the session for "advanced skaters", which is open to all skaters who have their own ice skates. There are no lockers or coat check, but you really don't need them.
See a short video of skating on the Voyager of the Seas in MPEG (approx. 2.0MB) format.
For more information, do a search on "ice rink".
Last updated Oct 3, 2005.

---
Copyright © 1998-2011 SkateNY, unless otherwise indicated. All rights reserved. The information contained on this site may not be published, broadcast, rewritten or redistributed without the prior written consent of SkateNY.
SkateNY home