World Ice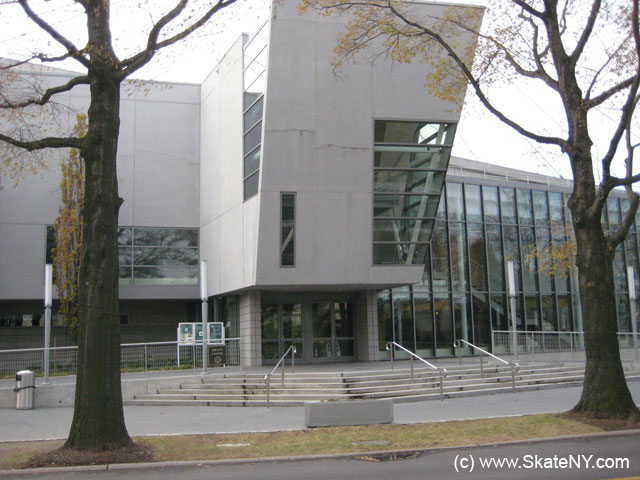 &nbsp
&nbsp
&nbsp
&nbsp

Click on photo for a larger image.
Indoors, year-round - Located in Flushing Meadows Park in Queens. This is the replacement rink for the World's Fair Rink that was closed to allow for the expansion of the Queens Museum. Other than this connection, the two appear to have little in common.
The World Ice Rink is housed in a new building along with a new aquatic center (hopefully, for ice skaters, there are no plans to expand the aquatic center). The center is located on the east end of Flushing Meadows Park and is more easily accessed from the intersection of College Point Blvd. and Avery Ave. Inside the building there are bleachers that overlook the rink and also provide a view of the pool area.
The ice is NHL regulation sized, well maintained, smooth, and medium hard. Free parking is available in the front of the complex. The rink has a skating school and skate rental. Coin lockers are available and cost 75 cents. There is a snack bar for soda and snacks.
For those that are familiar with the World's Fair Rink, here is our view of what is different between the two:
The World's Fair Rink had a patina that it wore well, while the World Ice Rink is bright, shiny, new, and wanting wear - it is a typical nice new rink lacking the character of its predecessor.
The World's Fair Rink was on the west end of the park and more easily accessed from the Grand Central Parkway, while World Ice is on the east side of the park.
Also, gone are the days of signing the green waiver to skate - just pay and go...
-- written Oct 9, 2009 (last visit before write-up August)
See the World Ice web site for more information.
Last updated Oct 9, 2009.

---
Copyright © 1998-2011 SkateNY, unless otherwise indicated. All rights reserved. The information contained on this site may not be published, broadcast, rewritten or redistributed without the prior written consent of SkateNY.
SkateNY home